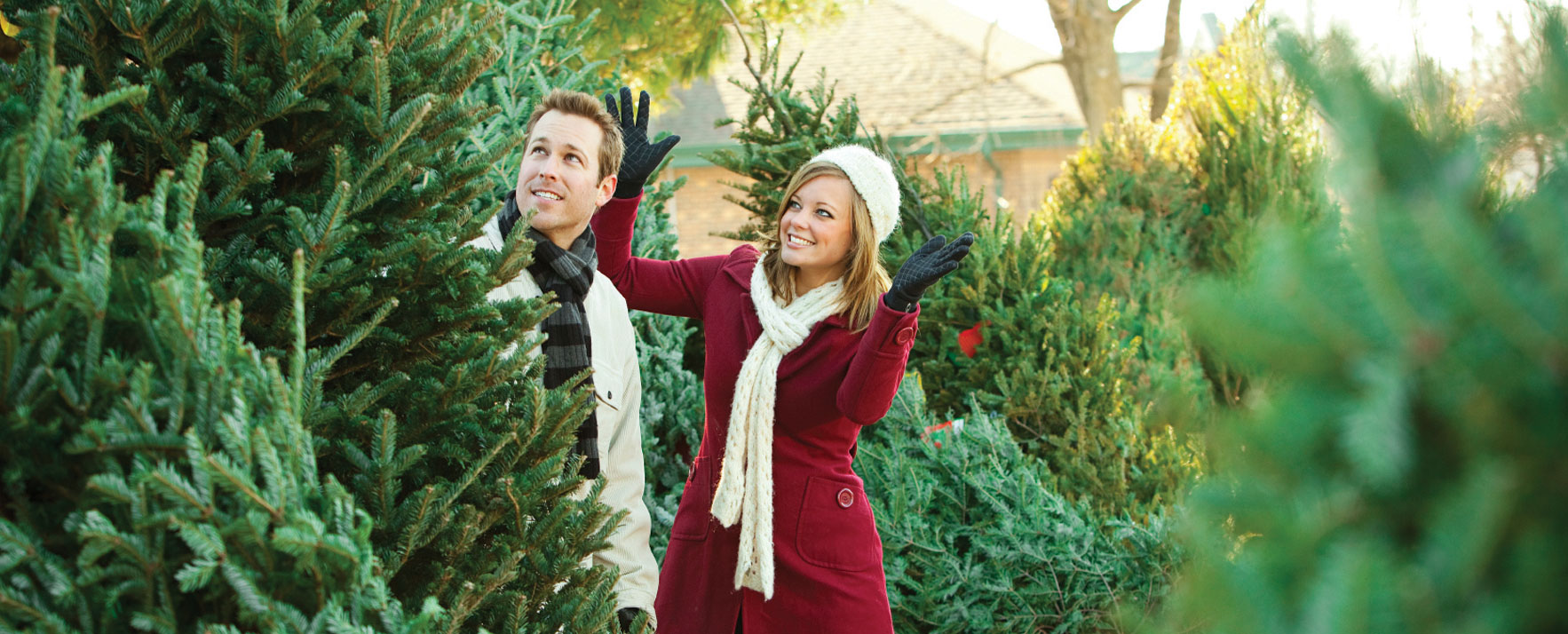 It's one of our favorite times of year! Prairie Gardens greenhouses are filled with Fresh Christmas trees and greens.
Come take a stroll and enjoy the naturally beautiful sights and irresistible scents of fresh Scotch Pine, Blue Spruce, Douglas Fir, and Balsam Fir Trees.
Our Plant Experts often are asked how long a live Christmas tree will last, and the answer depends heavily on moisture. As well as care. Luckily, the care part is easy! Follow these simple steps and your tree should last until Christmas. Plus, also learn how to keep your boughs, garlands, wreaths and more fresh, too!
---
HOW TO KEEP YOUR
LIVE CHRISTMAS TREES FRESH
Let us do a Fresh Cut
Right after you pick your tree (or your trick picks you) we'll make a fresh cut for you by removing an inch off the base. Why do we do it? When live trees are first cut, sap can run over the bottom of the base, creating a seal that makes it more difficult for the tree to absorb water. A fresh cut will give it a clean sap-free slate and allow it to soak up water more easily.
Wrap Your Tree
Make sure your tree is wrapped with netting for the drive home. This protects it from the wind, which can damage your tree. We'll wrap your tree for you right after we give it a nice clean fresh cut.
Buying Early? Keep your tree outside!
Want to shop trees right away, but you're worried they won't last all season by putting it inside too early? Buy and keep it outside! This will allow you to get the best early pickings and still prolong your trees life. Keep your tree outside or in the garage in a bucket full of water before bringing it in. The cooler temps will extend it's life. If placing outside, try to find a spot shaded from the heat of the sun and protected from the wind.
Water Right Away and Often
Put your tree in water as soon as you can. Some trees will need to be watered daily, so make sure to check the water level every day, never allowing the base of your tree to dry out.
Get the Right Stand
Some trees can drink a lot of water. For every inch in diameter of your tree base, your tree will need about a quart of water a day. If your stand is too small, you may struggle to keep your water level at what your tree needs.
Skip the Tricks
There are many tricks watering tricks people swear by, like adding sugar to the water. But the truth is, there's no proof these things work. So save the sugar for Santa's cookies!
Place With Care
Direct sunlight and heating sources can cause your tree to dry up faster then it should, so place it in an area away from both sun and heat. Dry house? A humidifier can help!
Light Smart
Our experts recommend using LED lights, they give off less heat, which can speed up the drying process, and they are more energy safe.
Get the best pickings
The best time to shop our greenhouses for a Christmas Tree is around the last week of November and beginning of December. When shopping, be picky! Do the needle test by touching the needles and seeing if they fall off easily. If they do, consider another tree. Luckily, we pull only the freshest trees from the best suppliers, so you'll always find super healthy trees in our greenhouses.
---
HOW TO KEEP YOU LIVE CHRISTMAS WREATHS, BOUGHS, AND GARLANDS FRESH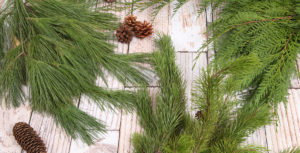 KNOW HOW LONG FRESH CHRISTMAS GREENS LAST
How long your greens will last can depend on many factors, but the most important is whether you will be placing them inside or outside. If kept outside, your fresh greens will likely last around 4-5 weeks. If kept inside, your fresh greens will likely las around 2 weeks.
BUY AT THE RIGHT TIME
The best time to shop our selection is the last week of November & the first week of December. You'll get the selection at it's finest and your choice of the freshest greens. When picking out your greens look for green needles that are more soft to the touch.
Even if you plan to put your greens inside, you can still shop early to make sure you're getting the best pickings. Just make sure to keep them outside until about 1-2 weeks before Christmas. This way you still get to shop the greens at their peak, but also have them look nice and fresh when in use.
GIVE THEM A MIST
Christmas greens dry out when they are not hydrated enough, so spritzing with water is a great way to prolong their life. If the weather remains cool, most greens that are outside should need little misting attention. However, if there a bout of warm weather, you should fill a spray bottle with water and give your outdoor Christmas greens a mist.
If your Christmas greens are indoors, you should definitely mist them every day.
PLACE WITH CARE
The more protected your greens are from the sun or wind, the longer they'll last. Sun will dry them out more quickly, so a shaded area is best. And the wind will dry them out as well, so a protected area is also key.
Christmas greens placed indoors should be kept away from heating vents, fans, and direct sunlight – all of which speed up the drying out process.
RE-HYDRATE WREATHS
Misting is great, but re-hydrated by dunking your Christmas greens, especially wreaths, is even better. Dump the backside of a wreath (since this is where the cut stems are located) in a bucket of water.
---