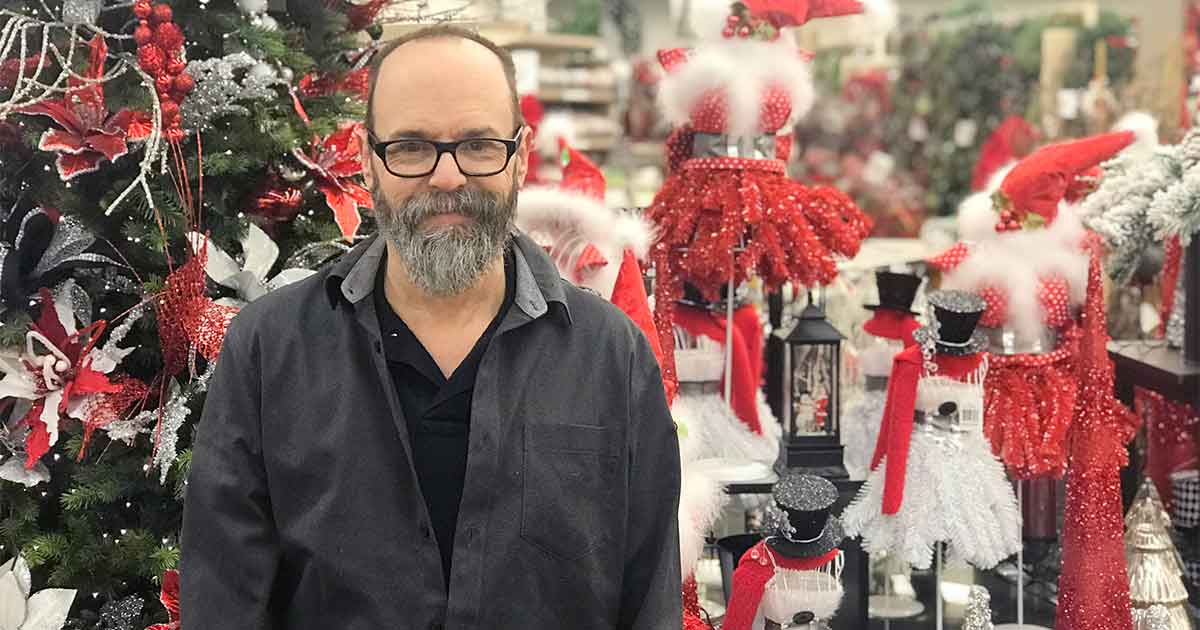 How do you create a beautiful tree topper? How do you get your tree look full without spending a ton? What ornaments should you hang where?
He's decorated hundreds of
Prairie Gardens & Jeffrey Alans
Trees over the year and is sharing his very-best tips for getting a beautifully decorated Christmas Tree.

STEP ONE
CREATING A TREE TOPPER THAT WOWS
QUICK TREE TOPPER TIPS

It doesn't take a ton of different items to create a great topper, so stick to the essentials. Brian's 3 must haves? Ribbon, Florals, and Shatterproof Ornaments.
When placings florals, always make sure to shape and fluff them. They'll look better and fill your tree much more quickly. As Brian says, "show 'em who's boss!"
Forget the perfectly-tied bow…just loop your ribbon a few times and cinch it in the middle with a pipe cleaner. Once you jab and stick it into your tree, no one will be able to tell that it isn't a traditionally tied bow.
Create depth by placing shatterproof ornaments near the base of the tree…they'll subtly shine against your trees lights.

STEP TWO
ADDING A TREE BASE
QUICK TREE BASING TIPS

Work from the inside out…adding ornaments near the base of your tree will create depth and fill pocket holes.
Make clusters by tying together ornaments. Spread them evenly throughout your tree to create focal points.
Large flat items likes snowflakes are great to items to place inside your tree; they're an easy shape to understand and really pop!
You can never have to many berry stems. Stick them in deep! Follow the shape of the branch or place them in the pockets of your tree.

STEP THREE
ADDING THE FINAL LAYER
QUICK FINISHING TOUCHES TIPS

Use the 1, 2, 3 rule. 1 theme, 2 colors, and 3 shapes (round, flat or cookie, and long or jabby-stabbies).
Hang ornaments at different depths…hang some closer to the base and others on the tips of your branches.
Ornaments with clips, like birds, don't just have to go on the branches of your tree. Add them to your florals to make sure they are perched ever-so-perfectly.
When adding ribbon, cut it into strips and pinch them into your tree. You'll get to place them exactly where you want them and get more show for your buck.
Add a little icy sparkle…it's christmas after all! Icicle branches are one of Brian's favorite picks.

Extraordinary Gardening, Home Decor & More