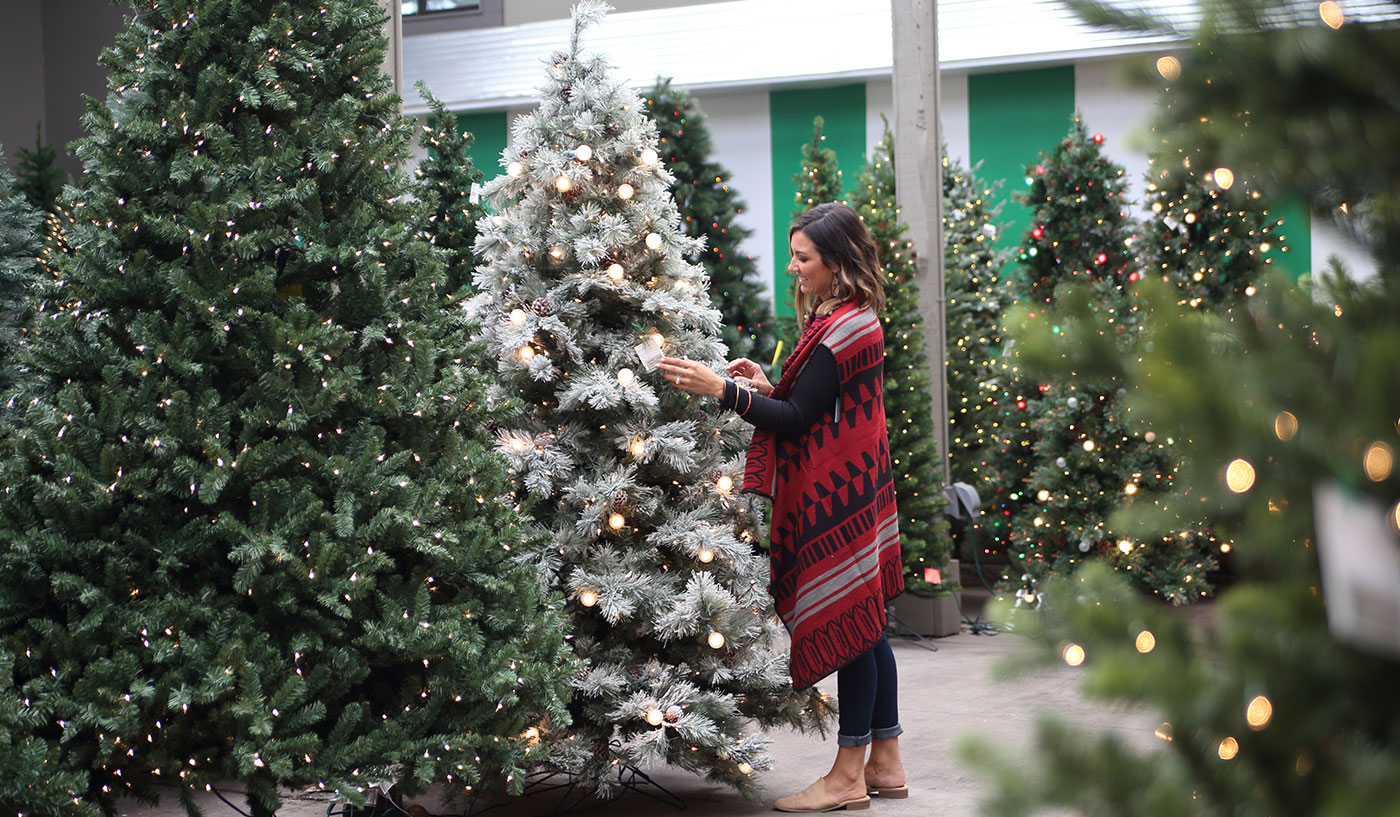 How long will my tree last? What if the lights go out? How much will it cost? Sometimes finding your perfect Artificial Christmas Tree can be overwhelming, but it doesn't have to be with your Prairie Gardens & Jeffrey Alans Tree Experts! Read below for quick and easy answers to some of our most frequently asked tree questions.

WHAT ARE SOME THINGS I SHOULD THINK ABOUT WHEN PICKING OUT MY PERFECT TREE?
Size, type of lights, style and budget are the main things you'll want to think about when picking out your Artificial Christmas Tree. Watch below as Prairie Gardens & Jeffrey Alans Tree Expert Andrea tours the PG tree room and shares the main things to consider when shopping for your Artificial Christmas Tree. Still overwhelmed? Always find PG & JA Tree Experts on hand to answer all your questions.

HOW LONG WILL MY ARTIFICIAL CHRISTMAS TREE LAST?
A long time! With easy proper care and maintenance, your perfect Christmas tree should last up to 15 years or even longer…even if it is a prelit tree. Just storing your tree correctly, replacing burned out bulbs, and more will ensure you and your family will be rocking around your perfect tree for years and years to come.

HOW MUCH WILL MY CHRISTMAS TREE COST?
The price of your Christmas tree will vary depending on a number of factors: if it's unlit or prelit, if it's slim or full, and more. Luckily, at Prairie Gardens & Jeffrey Alans you'll find one of the biggest selections around (over 100 styles!) with a range of prices to fit every budget. If you need help finding one to fit your budget and home perfectly, just grab a PG or JA Tree Expert. They're always on hand to help.

I WANT A PRELIT TREE…BUT WON'T THE LIGHTS GO BAD?
The reality is, it's rare for light strands to go bad; instead, it's almost always a super easy fix, like replacing burned out bulbs. Use these tips to ensure your lights stay lit:
Replace Burned Out Bulbs As They Happen: When a whole strand of lights go out, the bulbs are usually the culprit, not the strand. When individual bulbs burn out, the rest of the bulbs in the strand begin to work harder by taking on all the extra voltage. Eventually, this will cause all the bulbs on the strand to burn out. Avoid the whole strand going out by replacing bulbs as they burn out.
Use the Right Bulbs: When replacing Bulbs, use the right voltage. You can find the correct voltage on the tag that is attached to the plug of your tree's light strand.
Checking the Fuse: With most lights, it is rare you'll ever have to replace the fuse. However, large bulbs, like C7's, C9's, G40's etc, the fuse is the first thing you should check. If all the lights are out, the fuse is generally the culprit. Click here for a video tutorial on how to change your string lights fuse.
Loose or missing wires: Sometimes a bulb's wire may just be missing or pushed to the side. When this happens, the bulb will not light since the wires carry the connection. You may just need to straighten the wire, or in the case the wire is missing, replace the bulb. Finding this bulb is the tricky part, but it's easy with our Light Keeper Pro tool, available at Prairie Gardens & Jeffrey Alans. Click here to view a video tutorial on how to use the Light Keeper Pro tool.

WHAT IF I HAVE AN ISSUE I DO NOT KNOW HOW TO FIX MYSELF?
We'll fix it for you!
Every Prairie Gardens & Jeffrey Alans Christmas Tree priced 59.97 and up is guaranteed by a limited 3-year lights warranty. If lights on a section of your tree are burned out, simply bring this section (no need to bring the whole tree) in and our Tree experts will troubleshoot it for you. As soon as the issue is found, they'll give you a call with your tree solution.
Every Prairie Gardens & Jeffrey Alans Christmas Tree priced 59.97 and up is also guaranteed by a 5-year parts warranty. We will replace or repair any defective parts of your Christmas tree, order any necessary replacement parts, or provide apply the full amount of your original purchase to a replacement tree depending on the issue.
The PG & JA Tree Experts are here to help you with your Perfect Christmas Tree long after it arrives to your home

I'D RATHER GO WITH AN UNLIT TREE, DO YOU HAVE THOSE AVAILABLE?
Of course! Many of our lit tree styles you'll see on display in store come unlit as well. Check the signs to see if the lit display tree you see comes in an unlit version or grab a PG or JA Tree Expert for a quick unlit tree tour.

CAN I ADD ADDITIONAL LIGHTS TO MY PRE-LIT TREE?
Absolutely. Adding additional lights to your tree is a good way to add extra glow, or even change up the look from year to year for something new. Just make sure to attach them using a separate power cord, since some trees have a maximum capacity for end to end connection, which you'll find info for on the box of your lights.

HOW DO I SHAPE MY CHRISTMAS TREE?
Every Christmas tree needs fluffing and will look uneven and squished coming right of the box. Make sure to give it some shaping love with these tips to make sure your perfect tree looks its best.
Shape Section By Section: Assemble your tree and add the bottom section first (most trees come in 3 sections). Shape this section first before adding on the next section. Shaping section by section makes it easier to reach all the back branches.
Plug In the Lights: If you tree is prelit, connect the cords and plug into a power source as you assemble and shape your tree. The lights and cords are easier to find before you shape each section.
Move from the back & move forward: When shaping each branch, start from the back and move forward. Touch and pull out all the branches on the arm, pulling them outwards almost in a claw shape.
Shape Upwards At the Top: The branches at the very top of the tree should be shaped more upright instead of outwards.
Do The Squint Test: Once you've shaped all your branches on each section, take a step back and squint at your lighted tree. By doing this you should be able to tell if the lights are spaced out evenly. Reshape branches here and there if your lights seem uneven in places. If you're tree is unlit, just take a step back and look for any holes. Fill them by moving the branches here and there.

HOW CAN I STORE MY TREE? CAN I STORE IT IN THE BOX IT CAME IN?
Improper storage can lead to tree damage. After removing your tree and shaping it, it'll be very difficult to get it back into it's originally box without causing damage. Here are our quick tips for storing your tree at the end of the season.
Use a Tree Bag: We highly recommend that you do not store your tree int he original box. They never go back in as easily as they came out, and pushing or shoving your tree can damage the lights. Talk to a PG Tree Expert to find the perfect tree bag for your perfect tree.
Let Your Tree Cool Down: Allow the lights to settle and cool for 30 minutes or so before taking down and storing your tree.
Store in a dry place: Make sure you are storing your tree in an area where it will not receive any water damage, which can damage your light strands.
Inspect: The most convenient time to look for any light issues is at the beginning and end of the season – before you put your tree up, or right before you put it away.

VISIT PRAIRIE GARDENS FOR AN INCREDIBLE SELECTION OF ARTIFICIAL CHRISTMAS TREES
OVER 100 STYLES – UP TO 12' TALL
PRICED 50% OFF EVERYDAY