PRAIRIE GARDENS & JEFFREY ALANS
HANDMADE MEMORIALS
Loving, Lasting Tributes to honor your loved ones
Choose from Saddles, Weighted Arrangements, Hoops, Hanging Baskets & more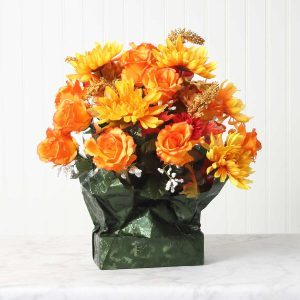 learn more about our Handmade Memorial Floral Designs below
MIDWEST'S LARGEST SELECTION OF MEMORIALS – OVER 13,000 PIECES SOLD EACH YEAR!
Unique, Beautifully Designed Pieces
Each and every one of our Memorials is dreamed up and designed by our talented team of designers who scour the markets every season to bring you the very best in Memorial Floral Design.
Every handpicked component is then hand-pieced together with care by our Prairie Gardens and Jeffrey Alans designers, right here in Champaign, IL.
It's our mission for you to celebrate someone special, with something special – with designs you'll only find locally, here at Prairie Gardens & Jeffrey Alans.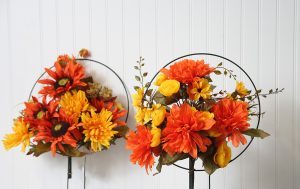 Handmade Long-Lasting Craftsmanship
Our Memorials are designed and handmade with both beauty and practicality in mind, ensuring your piece will not only look stunning, but will last and withstand the elements of our Midwest climate.
Every arrangement features high-quality silk flowers and ribbon for long-lasting color. Each stem is either glued, picked or wired to make them as secure as possible.
All containers and forms used are weatherproof and rust-resistant, with weighted options available to hold up to our midwest winds.
You'll be sure your piece is made with high-quality materials and hand-pieced together with care for a beautiful creation that will last a season with ease.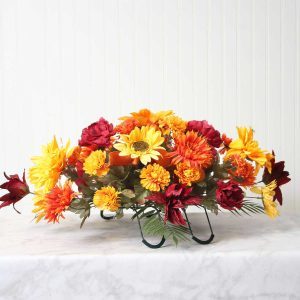 Incredible Selection
It's the best selection in the Midwest!
Find every type of Cemetery Decoration with Saddles, Hanging Baskets, Hoops, Weighted Arrangements and more in every color you can think of (and more than you even imagined).
The sheer amount of various colors, shapes, blooms, and textures will ensure you find something you absolutely love…for someone you love, at just the right price.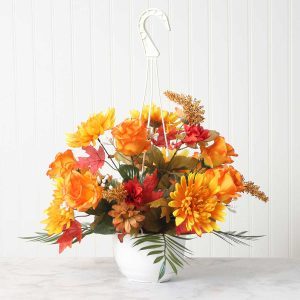 MEMORIAL GIFTS
Honor your loved ones with a special collection of Memorial Gifts. Discover Windchimes, Statuary, Stepping Stones and more.
MEMORIAL SUPPLLIES
Want to create something of your own? Visit our Floral Department for Silk Flowering Bushes, Faux Greenery, and Ribbon to create your own design. Plus, find Spike Containers, Saddle and Wreath Wire Forms, Foam and more to make your vision become a reality.
More Floral
PRAIRIE GARDENS & JEFFREY ALANS
HANDMADE MEMORIALS
LOVING, LASTING TRIBUTES TO HONOR YOUR LOVED ONES