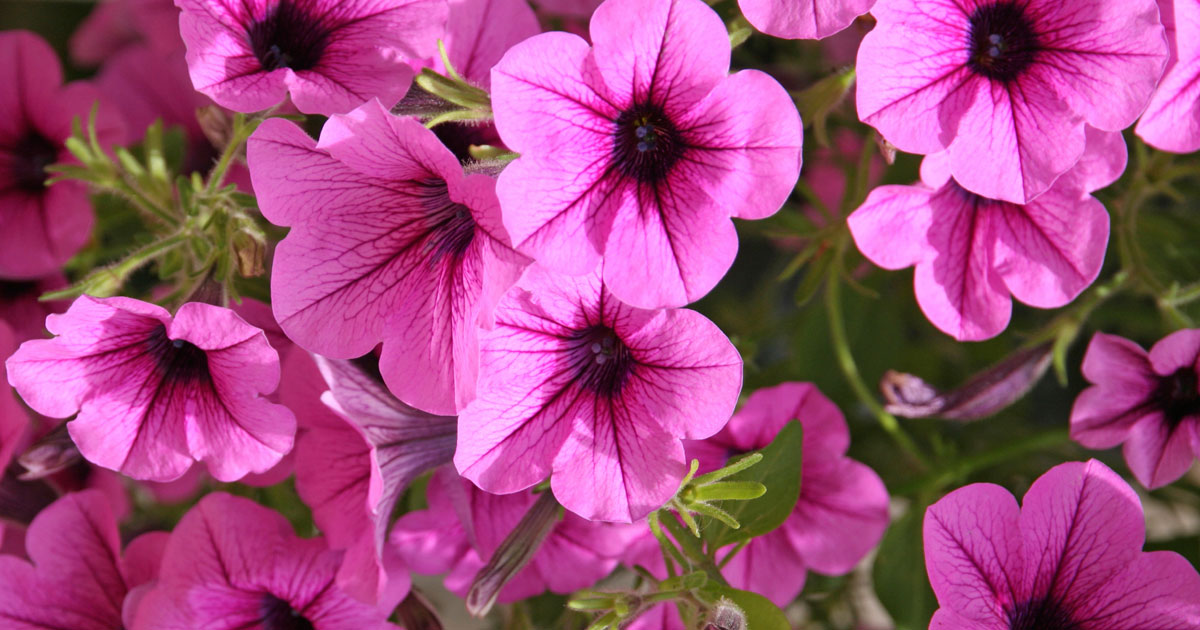 On the hunt for a certain Annual? View our variety list of many of the potted Sunny & Shady annuals you'll often find in the PG Greenhouses.
POTTED ANNUALS
The below list includes varieties you'll often find in the PG Greenhouses.
Items are coming & going all the time.
Call ahead to be sure they are in-stock before your visit: 217-356-6532

Alyssum
Mixed
Pink
Purple
White
Agastache
Sunrise (blue, orange, red, pink, violaet, white, yellow)
Ageratum
Arisit (blue, purple)
Ajuga
Bronze Beauty
Burgundy Glow
Alternanthera
Brazilan Red Hot
Burgundy Thread
Choco Chili
Little Ruby
Party Time
Purple Prince
Raspberry Rum
Red
Red Carpet
Yellow True
Angelonia
Alonia Blue
Alonia Indigo
AngelMist (Berry Sparkler Spreading, Pink Spreading, Purple Dark Spreading, white spreading)
Archangel (Blue Bicolor, Cherry Red, Purple Dark, Rose Dark, White, Raspberry)
Serena
Serenita (Blue Sky, White, Mix, Purple)
Arctotis
Opera (Fire, Orange, Rose)
Argyranthemum
Beauty Yellow
Butterfly
Golden Butterfly
Grandaisy (Pink Halo, Yellow)
Madiera (Crested Hot Pink, Madiera White)
Sassy (Double Rose Deep, Double Yellow, Red)
Vanilla Butterfly
Artemisia
Parfum d'Ethiopia
Powis Castle
Silver Bullet
Red
Silky
Asparagus sprengeri
Bacopa
Bahia (Blue Sand, Lavender Blue, Pink Sand)
Betty (Dark Blue, Pink, White)
MegaCopa (Jumbo White, Blue, Blue Sky, Pink, White)
Scopia (Double Indigo, Double Snowfall, Gulliver Blue, Giant Snowflake, Snow Globe)
Scopia Double Snowfall
Begonia
Angelwing (Beningo, Brazil Lady, Lana, Lois Burke, Looking Glass, Miss Mummy, Morocco, My Special Angel, Sophia, Torch Red)
Baby Wing White
Big Pink Green Leaf
Big Red Bronze Leaf
Big Red Green Leaf
Big Rose Bronze Leaf
Big Rose Green Leaf
Bossa Nova (Orange, Pink Glow, Red)
Canary Wings
Doublet (Pink, red, Rose, White)
Dragon Wing (Pink, Red)
Encore IV (Pink, Red, White)
Gryphon
I'conia (Champagne, Citrix, Hot Coral, Hot Orange, Miss Malib, Miss Montreal, Orange Heat, Sunrise, Tweetie Pie, Yellow)
Megawatt (Pink Bronze, Red Green, Rose Green)
Mistral Red Dark
Nightlife Red
Nonstop (Mocca Cherry, Orange, Pink, Yellow Red Back)
Prelude
Rex (White, Fireworks)
Rex Jurassic (Green Streak, Pink Shade, Red Splash, Silver Point, Silver Swirl, Watermelon)
Santa Cruz
Super Olympia (Rose, White)
Whopper (Red Green Leaf, Red Bronze Leaf, Rose Green Leaf)
Bidens
Bee (alive, bold)
Bidy Bop Blaze
Mexican Gold
Namid Special Yellow
Brachyscome
Fresco (candy, Purple)
Bracteantha
Dreamtime
Mohave (Dark Red, Orange)
Browalia
Endless Ilumincation
Buddleja
Leah Blue
Caladiums
Multi-color
Pinks
Reds
Whites
Calendula
Caleo
Lady Godiva
Calibrachoa
Aloha (Blue Sky, Canary Yellow, Purple Sky, Red)
Aloha Tiki Blue
Aloha Kona (Blue Sky, Cherry Red, Honeycomb, Lavender Dark, Mango, Midnight Blue, Neon, Hot Orange, Pineapple, Pink Hot, Pink Soft, Red Dark, Sunshine, White)
Bloomtastic (Pink Flare, Rose Quartz, Serentity)
Cabaret (Blue Deep, Blue Midnight, Coral Kill, Lavender, Noeon Rose, Orange, Pink Light Kiss, Pink Hot, Pink Star, Purple, Purple Heart, Red Bright, Rose Kiss, White, Yellow Deep, Yellow Golden)
Calitastic (Papaya, Pumpkin Spice, Red Lips)
Callie (Burgundy, Mango)
Can-Can (Magenta Kiss, Pink Bumblee Bee, Terracotta)
Candy Bouquet
Candy Shop (Grape Splash, Sweet Dreams)
Chameleon (Blueberry Scone, Cherry Banana, Indian Summer, Lemon Berry, Pink Diamon, Sunshine Berry)
Congo (Coral Kiss, Orange Kiss, Rose Kiss, Sunset Kiss)
Hula (Amethyst, Appleblossom, Blue, Gold, Orange, Pink Hot, Pink Pastel, Pink Soft)
Mini Famous (Neo Double Silver Blue, Neo Blue Light, Neo Yellow)
Mini Famous Uno (Double Pinktastic, Double Rose Chai, Double White, Pink Star, Violet Star)
Skywalker
Superbells (Blue Moon Punch, Coralberry Punch, Coraline, Dreamsicle, Evening Star, Grape Punch, Holy Moly! Holy Smokes! Lemon Slice, Morning Star, Pomegrant Punch, Saffron, Strawberry Punch, Tropical Sunrise, Yellow)
Volcano (Non Pink)
Campanula
Champion Blue
Canna
Cannova (Bronze Orange, Orange, Red)
Toucan (Scarlet)
Cassia
Popcorn
Celosia
Asian Garden
Bright Sparks (Burgundy, Mix)
Dracula
Dragon's Breath
First Flame Purple
Intenz (Lipstick, Purple Dark
Kelos (Fire Pink, Fire Purple, Fire Red, Fire Scarlet, Fire Yellow)
Twisted (Orange, Orange Dark, Red, Yellow)
Cleome
Clio (Magenta, Pink Lady)
Senorita (Blanca, Rosalita)
Sparkler Lavender
Coleus
Alabama
Beauty of Lyon
Black
Bonnie
Burgundy Wedding Train
Campfire
Coleosaurus
Colorblaze (Apple Brandy, Sedona Sunset)
Cracklin
Dragon
Electric Lime
Flame Thrower (chili Pepper, Chipotle, Habanero, Salsa Roja, Salsa Verde, Serrano, Spiced Churry)
Florida (Sun Rose, Sunshine)
French Quarter
Gays Delight
Great Falls (Angel, Iquazu, Niagra, Yosemite)
Hipsters (Piper, Zooey)
Indian Summer
Inferno
Inky Fingers
Kingwood
Kong
Kong Jr (Green Halo, Lime Vein, Rose, Scarlet)
Main Street (Abbey Road, Alligator Alley, Chartres Street, Fifth Ave, La Rambla, Oxfod Street, River Walk, Rodeo Drive, Sunset Boulevard, Wall Street)
Mint Mocha
Orange King
Pineapple
Pinkplosion
Premium Sun
Redhead
Ruby Slipper
Special Effects
Stained Glassworks (Golden Gate, Kiwi Fern, Luminesce, Tilt Whirl, Trailing Monarch, Trailing Plum)
Terra Nova (Fiona, Red Ripple)
Trusty Rusty
Vino
Wasabi
Watermelon
Wildfire
Colocasia
Black Magic
Tea Cup
Cuphea
Allyson
Bat Face
Candy Corn
Cigar
Purple
Vermillionarie
White
Wine
Dahlia
Dahlinova (California, Carolina, Carolina Burgundy, Carolina Orange, Lisa Burgundy, Texas)
Gardenetta (Passion Fruit, Red Dark, Pink Dark, Red Dark, Sunrise, Yellow)
Grandalia (Pink Dark, Red Dark, Sunrise, Yellow)
Hypnotica (Bronze, Electric Pink, Gold, Icarus, Lavender, Orange, Pink, Purple Bicolor, Red, Red Velvet, Rose Bicolor, Tequilla Sunrise, Tropical Breeze, White, Yellow)
Mystic Illusion
XXL (Tabsaco, Veracruz)
Dichondra
Silver Falls
Digiplexis
Illumin Flame
Dracaena
indivisa
Dusty Miller
Cirrus
Silver Dust
Eucalyptus
Silver Drop
Euphorbia
Breathless (Blush, White)
Diamond (Delight, Frost)
Pink Pandora
Star Dust
Evolvulus
Blue Daze
Felicia
Forever Blue
Fuchsia
Autumnale
Cora Bells
Shadow Dancer (Betty, Marcia, Rosella, Violetta)
Uprt Dollar Princess
Uprt Firecracker
Uprt Gartenmeister
Windcharm Uprt (Lilac Rose, White)
Gaura lind
Ballerina
Belleza (Pink Dark, Pink Light Compact, White)
Gazania – Giants
Deep Orange
Red Bronze
Violet Bi-Color
Yellow Red Stripe
Geranium
Americana (Cherry Rose, Orchid, Red Dark, Rose Ice, Salmon, White)
Black Velvet (Rose, Scarlet)
Brocade
Bullseye (Cherry, Salmon)
Calliope (Large Lavender, Large Red Dark, Medium Burgundy, Medium Crimson Flame, Medium Red Dark)
Contessa
Maverick (Red, Rose, Scarlet Pictotee, Violet Picotee, White)
Mint Julep
Mrs. Polluck
Patriot Red Bright
Rocky Mountain (Orange, Pink)
Savannah Punch
Survivor (Baby Face, Blue, Cherry Red, Coral, Fuchsia, Pink Batik, Pink Hot, Pink Mega Splash, Red Dark, Salmon Pink, Salmon Sensation)
Vancouver
Wilhelm
Gomphrena
Audray Rose Bicolor
Budacious Radiant Red
Fireworks
Horton's Revenge
Las Vegas (Pink, White)
Pinball Purple
Ping Pong (Lavender, Purple, White)
Qis Red
Strawberry Fields
Gypsophila
Gypsy Rose Deep
Helichrysum
Icicles
Licorice (Lemon, Petite, Splash)
Silver Star
Heliptrope
Marine
Hypoestes
Splash Select (Pink, Red, Rose, White)
Iberis
Summer Snowdrift
Impatiens
Beacon (Orange, Red Bright, White)
Big Bounce (Cherry, Pink, Red, White)
Bounce (Cherry, Pink Flame, White)
Enlighten (Neon Punch, Red Bright, Red Wash, Rosy Starburst, Sunsset Beach)
Impreza Mix Wedgewood
Patchwork (Peach Prism, Pink Shades)
Impatiens Sunpatiens
Compact Blush (Pink, Coral Pink, Electric Orange, Fire Red, Hot Coral, Lilac, Non Pink, Orange, Orchid, Pink, Purple, Red, Deep Rose, Royal Magenta, Tropical Rose, White)
Vigorous (Clear Orange, Clear White, Corona, Lavender, Pink Kiss, Red, Shell Pink)
Impatiens Double
Fiesta (Appleblossom, Salsa Red)
Fiesta Bonita (Burgundy, Cherry, Rose, Salmon, Stardust Lavender, White)
Fiesta Stardust (Hot Pink, Pink Hot, Pink, Purple)
Impatiens New Guinea
Clockwork (Appleblossom, Cherry Strike, Orange, Orange Stripe, Pink Hot Glow, Red)
Infinity (Blushing Lilac, Cherry Red, Orange, Dark Pink, Pink Frost, Light Purple, Salmon, White)
Magnum (Blue, Fire, Lavender Spash, Orange, Pink Hot, Purple Bright, Purple, Red Flame, White Blush, White Clear, Whil Salmon)
Sonic (Lavender Light, Purple Deep)
Strike (Orange, Orchid, Plum)
Super Sonic Red
Ipomoea
Bright Ideas Rusty Red
Marguerite
Solar Power (Black Heart, Lime, Lime Heart, Red Heart, Red)
Solar Tower Lime
Spotlight (Black, Lime)
Sweet Georgia (Bronze, Bullfrog, Deep Purple, Heart Light Green, Heart Purple)
Lamium
Lami Purple Dark
Jade Frost
Anne Greenaway
Beacon Silver
Pink Pewter
White Nancy
Lantana
Bandana (Cherry Sunrise, Orange, Pink)
Bloomify (Red, Rose)
Carolina (Orange Burst, Peaches, Pink Birhgt)
Florida (Fuschia, Red)
Landmark (Red, Citrus)
Little Lucky (Lemon Cream, Orange, Peach Glow, Pink, Red)
Lucky (Flame, Lavender, Lemon Glow, Pot of Gold, Red, Rose Sunrise, White, Yellow)
Purple Dark
Wagon Wheel Pink)
Lavandula
Big Time Blue
French
Hidcote
Munstead Blue
Platinum Blond
SuperBlue
Lobelia
Bella (Aqua, Azure, Cielo, Rosa)
Early Springs (Blue Dark, Blue Sky, Lavender Pink)
Laguna (Blue Dark, Sky Blue)
Magadi (Blue, Blue Dark, Basket White)
Techno (Blue, Heat Blue Dark, Heat Electric Blue, Heat Upright Blue Dark, Heat White)
Waterfall (Blue, White Blush)
Lobularia
Blushing Princess
Dark Knight
Easy Breezy (Pink, Pruple White)
Frosty Knight
Lavender Deep Stream
Passionaria Purple Dark
Purple Stream
Raspberry Stream
Silver Stream
Snow Princess
White Knight
Yolo (Lavender, Pink, Purple, White)
Lysimachia
Goldilocks
Midnight Sun
Waikiki Sunset
Marigold
Cracker Joe Orange
Durango (Bolero, Flame, Red, Mix)
Taishan (Gold, Orange, Yellow)
Vanilla
Safari
Mecardonia
Little Sunshine
Magic Carpet
Nicotiana
Saratoga
Oxalis
Charmed
Molten
Zinfandel
Pentas
Butterfly (Red, Rose Deep)
Falling Star Red
Graffiti (Red Bright, White)
Kaleidoscope (Carmine, Lilac, Red Deep, Rose Deep)
Lucky Star (Lipstick, Red Dark, Violet)
Petunia
Amore (Purple Heart, Queen of Hearts)
Black Magic
Cascadias (Autumn Mystery, Indian Summer, Rim Magenta, Rum Violet)
Cha-Ching Cherry
ColorBlitz (Amethyst, Blue, Blue Ocean, Blue Sky, Bluerific, Lavender Shade, Pinceptional, Red, Rose Stardust, Snowy White, Yellow)
ColorRush (Blue, Pink, Pink Vein)
Combo Blue
Constellation (Ariest, Gemini, Virgo)
Crazytunia (Blackberry Mojoito, Blue Ice, Cosmic PUrple, Kermit Purple, Mandevilla, Moonstruck, Purple Prince, Razzmatazz)
Damask (Carmine, Purple, Volet)
Dekko (Lavender Dark, Red, Sky Blue)
Double Wave (Blue Velvet, Red)
Duvet (Burgundy, Mix, Pink, Red, White)
Easy Wave (Berry Velour, Burgundy Velour, Mix South Beach, Neon Rose, Pink Passion, Red Velour, Silver, Violet)
Evening Scentsation Blue
Ez Rider (Blue, Mix Formula)
Good & Plenty (Flamingo, Grape Ice, Nightlife, Peach, Purple Skirt)
Headliner (Banana Cherry Swirl, Blueberry Swirl, Eelectric Purple, Night Sky, Pink Sky, Pink Star, Red Star, Starry Sky Burgundy, Yellow)
Jelly Roll
Limbo GP (Blue Sky, Blue Vein, Burgundy Picotee, Mix Heather)
Main Stage Violet
Origami (Burgundy, Watermelon)
Peppy (Blue, Burgundy, Cerise, Sunset)
Phantom
Pinstripe
Potunia (Blueberry Muffin, Coral, Plus Neon, Plus Pinkalicious, Plus Purple, Plus white, Plus Yellow, Pruple Halot, Starfish)
Pretty Grand (Mix, Mix Flag, Summer)
Ray
Sanguna (Lavender Deep Vein, Yellow)
Starlet (Pink Lemonade, Salmon Red Vein, Yellow)
Sun Spun Coral
Supertunia (Black Cherry, Bordeaux, Daybreak Charm, Giant Pink, Honey, Latte, Limoncello, Lovie Dovie, Mulberry Charm, Picasso in Purple, Pink Giant, Pink Star Charm, Priscilla, Royal Magenta, Royal Velvet, Violet Star Charm, Vista Bubblegum, Vista Fuscia, Vista Paradise, Vista Silverberry, White)
Surfinia (Heartbeat, Heavenly Blue, Sky Blue)
Surprise (Blue Sky, Grape, Green Tambourine, Lemon Frost, Magenta Halo, Marine, MOnarch Star, Neon, Pink Hot, Pruple Sky, White Orchid, Yellow)
Sweetunia (Black Satin, Blueberry Ice, Coral Flash, Fiona Flash, Johnny Flame, Lavender Shimmer, MIss Marvel, Purple Touch, Purple Vein, Suzie Storm, Velveteen, White)
Tidal Wave Cherry
Phlox
Gisele (Pink Light, Pink Hot, Violet Light, White)
Phloxstar (Red, Salmon)
Phloxy Lady (Cherry Red, Pink Hot, Purple Sky)
Plectranthus
Coleoides
Mona
Nico
Silver
Portulaca
Campino (Cherry, Pitaya)
ColorBlast (Double Magenta, Double Orange, Double Scarlet, Double Yellow, Lemon Twist, Mango Mojito, Watermelon Punch)
Cupcake (Cherry Baby, Grape Jelly, Peachy, Strawberry, Lavender, Yellow Chrome)
Rudbeckia
Indian Summer
Toto
Salvia
Black & Bloom
Bumblesnow
Cathedral (Deep Blue, Lavender, Purple, Shining Sea, Sky Blue, White)
Evolution
Grandstand (Blue Bicolor, Lavender, Purple, Red Pink Lipstick, Red, Salmon)
Heatwave (Blaze, Sparkle)
Hot Lips
Icon (Dark Blue, Light Blue, Violet)
Midnight Candle
Mirage (Cream, Rose Neon, Violet)
Mojave
Mystic (Spires)
Mysty
Patio
Red Hot Sally
Rockin'
Sallyfun (Sky Blue, Snow White)
Saucy (Red, Wine)
Skyscraper (Orange, Pink, Dark Purple)
Summer Jewel (Pink, Red, White)
Velocity
Victoria (Blue, White)
Scaevola
Blue Fan
Bondi
Scampi (Blue, Pink, White)
Surdiva (Blue Violet, Pink Fashion)
Whirlwind
Sedum
Angelina
Baby Tears
Blue Spruce
Coral
Touchdown (Flame, Teak)
Snapdragon
Candy Tops
Dragon (Butterfly, Peachy Rosey)
Montego (Orange Bicolor, Pink, Purple)
Snaptastic (Magenta, Red)
Speedy Sonnet (Crimson, Rose)
Twinny (Peach, Violet)
Torenia
Catalina (Gilded Grape, Grape O Licicous, Midnight Blue)
Kauai (Blue Deep, Burgundy, Lemon Drop, White)
Moon (Blue, Purple, Rose, Yellow)
Summer Wave (Amethyst, Blue, Violet)
Verbena
Blues Neon
Cadet (Pink Hot Wink, Lavender Blue, Red, White)
Empress
EnduraScape (Dark Purple, Magenta, Pink Bicolor, Purple, Red)
Firehouse (Grape, Pink, Purple, Purple Fizz, White)
Imagination
Lanai (Blue Eyes, Candy Cane, Neon Rose, Peach, Pink Deep, Purple Star, Red, Red Star, Scarlet, Sky Blue, Strawberry, Twister Burgudny, Twister Purple, Twister Up Rose, Vintage, White)
Lanai Uprt (limoncelo, Watercolor)
Lascar (Black Velvet Mango Orange, Pink, Red Rose, Salmon, Vampire)
Little One
Pops
Santos
Superbena (Royal Chambray, Royal Cherryburst, Royal Iced Cherry, Royal Peachy Keep, Royal Plum Wine, Royal Romance, Royal Whitecap, Whiteout)
Voodoo (Red Star, Salmon Star)
Wicked (Salmon Star, Burgundy Beauty, Great Grape, Pink Pepepr, Rad Red)
Wink Burgundy
Vinca
Cora Cascade
Major
Mediterranean XP (Burgundy Halp, Mix Lipstick, Peach, Rose Halo, Strawberry)
Soiree (Crown Rose, Double Orchid, Double White, Black Cherry)
Tattoo (Papaya, Raspberry, Tangerine)
Titan (Icy Pink, White Pure)
Zinnia
Bridesmaid
Bright Orange
Champagne Toast
Double Zahara (Raspbery Ripple, Cherry)
Fire
Magellan
Profusion (Double Cherry Hot, Double Deep Salmon)
Raspberry Ripple
Salmon
Yellow
Zahara (Cherry, Fire, Raspberry, Red, Starlight Rose, Sunburst, Yellow)
Plus more! Not seeing what you're looking for? Still give us a call, we may have it!