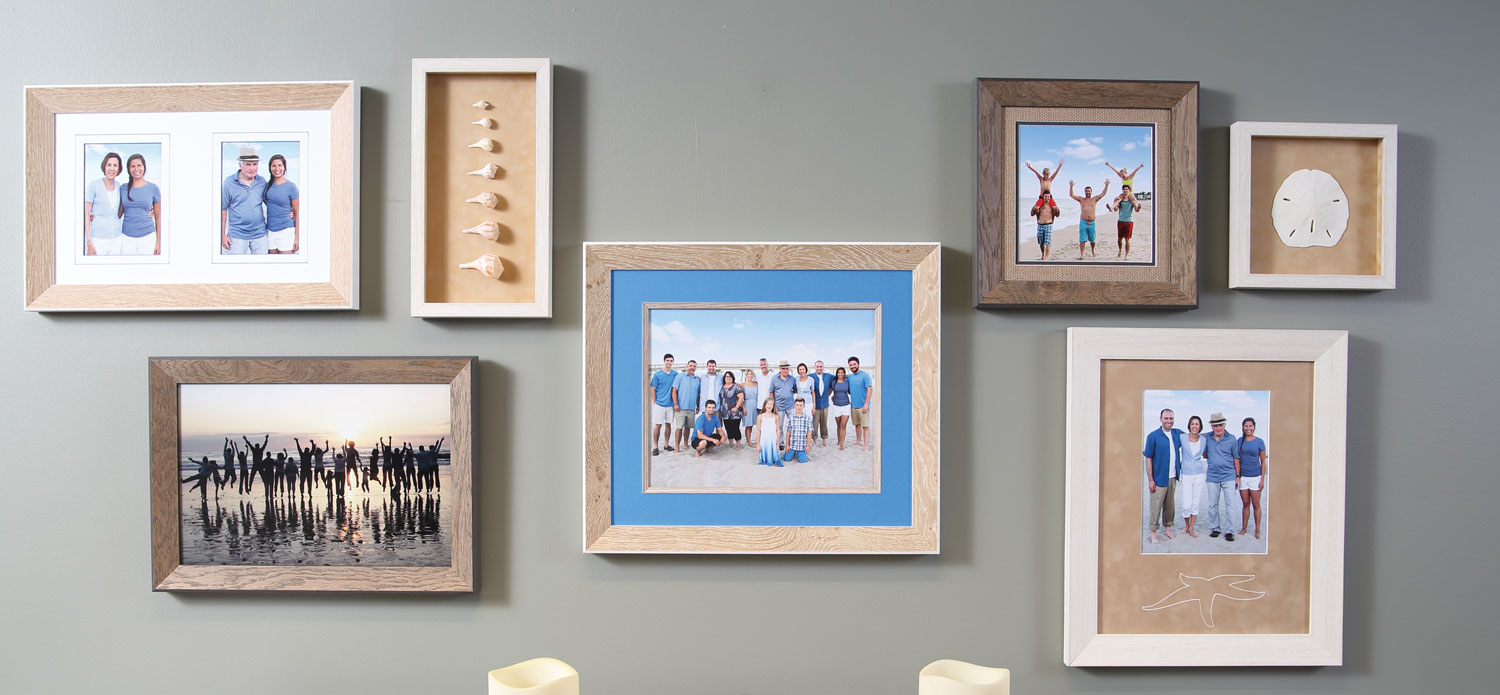 At Prairie Gardens & Jeffrey Alans, we know every piece brought to our Custom Frame Shop is something you love…and we love framing it. Whether your pieces are your favorite photos, family heirlooms or beloved artwork, what you love inspires us to create framed pieces you can visually enjoy for a lifetime.
But it's not just about the looks for us. It's also about quality, and us protecting what you love for a lifetime. That's why we source the very best materials and use the best construction to make sure your framed piece lasts and looks good while doing it. From the glass to the mats, learn the top 6 ways we preserve what you love in each and every custom frame job we do.

1
The Right Glass
One of the best ways you and we can protect what you love in a Custom Framing piece is choosing the right glass. There are 3 main glass options: Regular, Conservation Clear and Museum.
While regular glass can work for many custom frame jobs, it does not provide near the protection as Conservation Clear and Museum Glass, which provide better UV protection, are more durable, provide better clarity, and more.
Why choose Museum Glass?
Anti-reflective
Blocks up to 99% of UV rays
Optical Coating to brighten colors
Enhanced Surface for easier cleaning
Coatings engeniered for permanance
No ripple effect on Glass
Premium 2.5mm thickness for strength and rigidity
Why Choose Conservation Clear Glass?
Blocks up to 99% of UV rays
Conservation grade UV coating
No Ripple Effect on Glass
Premium 2.5mm thickness for strength and rigidity

2
The Right Mats
One of artwork's top enemies? Acid. Some matboards on the market contain acid and can cause discoloration or damage if used in a custom framing piece. All Prairie Gardens & Jeffrey Alans matboards are acid-free to ensure your piece is protected for a lifetime. Plus, each one of our mats are also bleed-free and fade-resistant.
Choose from 2 types of 100% acid-free matboards
Conservation quality matboards are purified and buffered with calcium carbonate to keep the pH neutral and safe for art. Best for limited edition prints, valuable documents, photography and art of a personal or monetary value.
100% cotton matboards are made of cotton, which is naturally acid-free and lignin-free. Best for valuable works of original art, historical documents, original photography and any artwork that must be preserved.
3
The Right Mouldings
Each and every one of our frame mouldings are made from solid wood or metal materials. No resin materials are used, for frames that last and protect your pieces from environmental factors.
4
Sealing During Construction
Once we combine your frame, mats, and pieces together, we add a layer of foam core (which is also acid-free), using points to secure it in place. We then we seal the space between the frame and foam core with sealing tape. This adds another layer of protection and prevents acid from entering your piece.

5
Adding the Dustcover
Added to the back of the frame, the dust cover prevents dust, debris and dirt and other environmental factors such as insects from entering your custom framing piece and damaging your artwork. No piece leaves without it!
6
The Right Hardware
Right before it goes home with you, we make sure to add the right hardware, evenly attaching and threading sturdy copper wire across the piece. This ensures your piece will hang correctly to avoid damage from a fall.
Want to peek behind-the-scenes some more?
Watch a Custom Frame being made from beginning to end at Prairie Gardens & Jeffrey Alans!

Prairie Gardens & Jeffrey Alans
CUSTOM FRAMING
Knowledgable Experts. Incredible Selection. Lifetime Guarantee.
Learn More About Prairie Gardens & Jeffrey Alans Custom Framing

---