YOU'RE INVITED!
Totally Christmas Open House
Three FULL days of Christmas Cheer!
FRI • SAT • SUN  NOV. 12-14

See what's NEW for Christmas 2021
Win your favorite decorated tree FREE
Exclusive Open House SPECIALS!
GARDEN
It's that time…our greenhouses are growing the prettiest Mums around! Shop right from our greenhouses where you'll find Mums in the same spot where they were grown, and where you'll find the fussy growers that grew them.

MORE GARDEN
SEASONAL
Shop an ever-changing selection of seasonal decor with Silk Stems, Handmade Floral Designs, Candles & More to welcome Fall your home.
More Seasonal
FURNITURE & HOME DECOR
Fall in love with your home all over again with beautiful furniture and trendy home decor for all your perfect finishing touches.
More Home Living
MEMORIES ARE FOR FRAMING
With an incredible selection, knowledge experts, and a lifetime guarantee…frame the moments that matter with PG & JA Custom Framing.
More Framing
BOUTIQUE
Fall in love with your next outfit with clothing, purses, jewelry & accessories in a Boutique as Unique as YOU…all at guilt-free prices.
More Boutique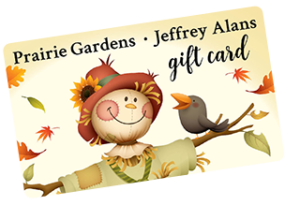 GIFT CARDS!
Free Shipping. Good forever.
Accepted in store at Prairie Gardens and Jeffrey Alans