Best Brands, Best Scents
PRAIRIE GARDENS & JEFFREY ALANS CANDLE COLLECTIONS
Set the mood, evoke a special memory, beautify your home – it all awaits you at Prairie Gardens & Jeffrey Alans with an incredible selection of fragrances from all the best brands, including Yankee, Woodwick, Colonial, and more.
Season after season, from reliving favorite memories to setting a mood, Yankee shares your passion for fragrance®. Find one of the largest selections around from this industry leader with Jars, Tumblers, Votives, Tarts, Wax Melts, and Car Jars.
WOODWICK CANDLES
Natural wooden wicks that crackle as they burn, a clean contemporary design, long-lasting scents, and a clean burn all combine to set Woodwick Candles apart. Tumblers, Ellipse Jars, Diffusers, wax melts and more – find them crackling in store.
The creator of decorative fragrance®, Aromatique Fragrances are designed to reawaken your most fond memories and enhance your home with a beautiful, classic design with fragrances available in Potpourri, Diffusers, Jars, Melts, and more.
POO-POURRI
Top their tanks and stuff their stockings with the solution to their toilet pollution! The perfect gift to that stinker or a gift for you (everyone poos), Poo Pourri's blend of natural essential oils traps oder under the surface, so all you smell is a refreshing goodness.
COLONIAL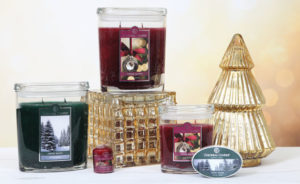 For more than 100 years, Colonial Candle® has been burning brightly in the homes of America. Started in 1905 out of Mabel Baker's tiny Cape Cod Kitchen, the signature oval jars of Colonial Candle® are still proudly made in the USA.
Find the perfect vessel for every type of candle with Lanterns, Holders, Rings and Containers. Mix and match an incredible selection of Home Accent styles to accessorize your home for the holidays.
BATTERY-OPERATED CANDLES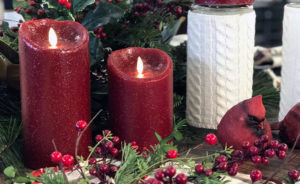 Long lasting and beautifully realistic, finding your favorite flameless battery-operated candles is easy with many different styles, sizes, and colors. Plus, with flickering and moving flames available…you'll think it's the real thing.
Introducing Luminara
Discover the magic of flameless battery-operated candles with Luminara. They sway, dance, and flicker so convincingly…you have to see it to believe it. With optional timer and remotes, the magic is easy to master.
KRINGLE & COUNTRY CANDLES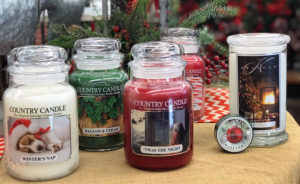 From the family of one of the original founders of the Yankee Candle Company, comes Kringle & Country Candles. Blending the new with the traditional, this collection is designed to match seamlessly with the decor of any home. The line features a wide-selection of robust candle fragrances that are uniquely inspired and incredibly realistic.
MILKHOUSE
The Milkhouse blend of waxes is simple: pure beeswax and natural soy wax from soybeans grown in America's Midwest. No artificial dyes are added and there is no lead in the wicks. The Milkhouse blend of waxes provides a safe and clean-burning alternative to paraffin candles.
No matter the special event or get-together, find a large selection of tapers, floaters, votives, pillars, and tarts. With many colors, styles, and sizes at prices you'll love, you'll create the perfect ambiance no matter the occasion.
PLUS, MORE!
PRAIRIE GARDENS & JEFFREY ALANS CANDLE & FRAGRANCE COLLECTIONS
The irresistible fragrances of christmas await you.