PRAIRIE GARDENS
Spring Open House
2 Saturdays
March 26 & April 2
Let's get excited for Spring! You're invited to kick off the Spring Garden Season at Prairie Gardens Spring Open House. Come see what's new, shop exclusive Open House Specials, Enter to WIN your Favorite Garden Wish (up to a $1,000 value), and more.
SHOP EXCLUSIVE 1-DAY SPECIALS
View exclusive Spring Open House 1-day Specials below. And head to our specials page for more store savings.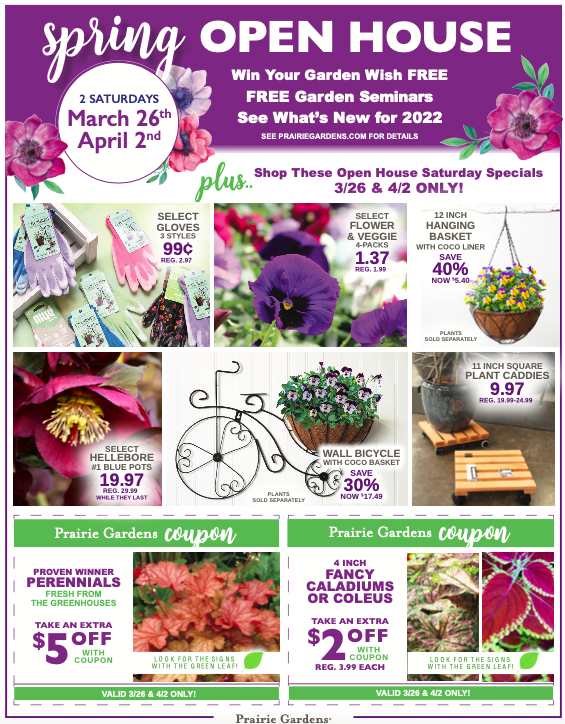 Head To Our Specials Page for More Store Savings
ENJOY FREE GARDEN SEMINARS & DEMOS
MARCH 26TH
8:15AM
Jessica DeGraff from Proven Winners will join the Plant Experts Radio Show. Listen in-store or LIVE on WDWS 1400AM to hear her talk new plants for 2022 from Proven Winners.
10AM
Solution Gardening – 5 Challenges, 10 Easy Fixes with Jessica DeGraff from Proven Winners
9AM-1PM
Fun Yet Functional Container Gardening with Sharon Erb, local expert and plant enthusiast.
UPDATE AS OF 3/22: Sadly, Sharon has fallen under the weather. While we know her seminar would have been fantastic & she's bummed she can no longer make it, getting rest is what's most important. Our apologies for the cancellation!
APRIL 2
10AM
Curb Appeal and Where to Start with special guest Heather Miller, Horticulturist and Educator – Heather will remain on hand until 2pm to answer all your landscaping questions.