PRAIRIE GARDENS
Spring Open House
Social Distancing Style
Come See What's New, Enter to WIN, Enjoy FREE Garden Seminars & More

2 Saturdays
March 27 & April 3
Ready, Set…Spring!
Gear up for spring with the first garden arrivals, including blooming annuals, perennials, houseplants, garden seeds and so much more – with Plant Experts on hand to help you create your best garden EVER.
Vote & enter to WIN your favorite Garden Wish! Choose from 6 incredible wishes:
WISH #1: Any 5 Japanese Maples or Conifers, up to $199.99 each
WISH #2: Any 5 Ceramic Pots, up to $199.99 each
WISH #3: An Annual and Perennial Dream Garden, choose from annuals, perennials, planters, hanging baskets, tropicals and more, $800 value
WISH #4: A Houseplant & Accessory Dream Garden, choose from houseplants, pots, soil, macramé hangers, plant stands & more, $800 value
WISH #5: A Fruit, Veggie & Herb Dream Garden, $800 value
WISH #6: Any Garden Accents of Your Choice, choose from Fountains, Statuary, Garden Stakes & More, $800 value
*must vote in store March 27 or April 3 to enter
SHOP EXCLUSIVE 1-DAY SPECIALS BOTH SATURDAYS
Shop 1-day Spring Open House Specials BOTH Saturdays. Click to view the exclusive 1-day specials below.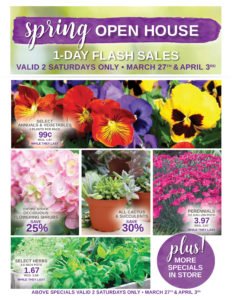 Subscribe via email for event updates, store specials & more
ENJOY FREE GARDEN SEMINARS
This year enjoy fun and informative garden seminars virtually in store!
Virtual videos will be brought to you by top leaders in the Plant Industry, with topics including, Hydrangeas Demystified, Top 10 Must-Have Shrubs, All About Summerific Hibiscus, Perennials that Attract Hummingbirds and more.
Virtual Seminars will run in store all day, both Saturdays to allow proper social distancing. Visit and watch the virtual seminar stations as you please.
Subscribe via email for event updates, store specials & more
Help as as we continue to follow CDC recommended social distancing guidelines:
maintain a distance of 6′ from other customers and associates
wear a mask per state mandate
follow our safe checkout procedures